Igor Evgenevich Kornelyuk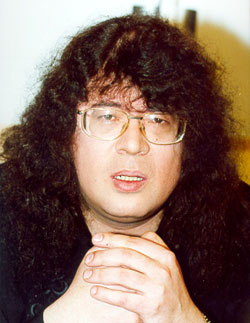 Igor Evgenevich Kornelyuk rodilsya 16 noyabrya 1962 goda v Breste V 1982 godu on okonchil muzykalnoe uchilische pri Leningradskoy konservatorii imeni NARimskogo-Korsakova, a v 1987 god -Leningradskuyu konservatoriyu po klassu kompozicii S 1986 goda kompozitorbyl muzykalnym rukovoditelem leningradskogo teatra "Buff", s 1988 goda stal hudozhestvennym rukovoditelem teatra-studii estradnyh predstavleniy Uzhe na vtorom kurse Igor Kornelyuk napisal svoy pervyy shlyager "Malchik s devochkoy druzhil" - pesnyu ispolnyal Albert Asadulin, a disk vypustila firma "Melodiya" S 1988 goda on nachal solnuyu kareru, vystupiv v teleprogramme "Muzykalnyy ring" Izvestnymi stali v ego ispolnenii pesni "Ya ne ponimayu chto so mnoy", "Malenkiy dom", "Dozhdi", "Sto let spustya","Malo li", "Dym ", "Klevo" Pesni kompozitora ispolnyayut zvezdy otechestvennoy estrady, v tom chisle - Mihail Boyarskiy, Edita Peha, kabare-duet "Akademiya", Filipp Kirkorov Vsego zhe Igor Kornelyuk napisal svyshe 100 pesen, a takzhe muzyku k spektaklyam "Strasti po Moleru", "Krestiki-noliki" teatr Peterburgskiy teatr komedii imeni NPAkimova, vypustil neskolko vinilovyh i CD diskov - "Bilet na balet" 1989, "Podozhdi" 1990, "Ya ne mogu tak zhit" 1993, "Moi lyubimye pesni" 1994 Krome togo, on snimalsyav kino, debyutirovav v 1989 godu v muzykalnom telefilme Sergeya Nikolaeva "Kud-kud-kuda, ili provincialnye istorii s intermediyami i divertismentom v finale" Zatem posledovali "Muzykalnye igry" Vitaliya Aksenova, "Shtany" Valeriya Priemyhova Poyavlyalsya populyarnyy kompozitor takzhe v odnoy iz seriy "Mentov" V 1992 godu o tvorchestve Igorya Kornelyuka byl snyat telefilm "Pust govoryat"
wiki: Igor Kornelyuk

DVD




Viktor Sergeev, Igor Kornelyuk, Aleksandr Baluev, Ekaterina Guseva, Vladislav Galkin, Vladimir Vdovichenkov, Mariya Golubkina

"The Sky and the Earth (Nebo i zemlya) (4 DVD)"

Semeynye otnosheniya styuardessy Mariny i komandira korablya Viktora dayut treshchinu. Vo vremya reysa v Simferopol odin iz passazhirov, obnaruzhivaet list bumagi, na kotorom napisana edinstvennaya fraza: "I upadet stalnaya ptitsa"... ...
DVD




Aleksandr Chernyaev, Igor Kornelyuk, Eduard Volodarskiy, Dayan Gaytkulov, Dmitriy Gluschenko, Aleksandr Pashutin, Sergej Selin

"Russkiy perevod"

Pryamikom so studencheskoy skami Andrey Obnorskiy popadaet v burnyy vodovorot sobytiy — nastoyashchaya afrikanskaya zhara, protivostoyanie yuzhan i severyan nekogda edinogo yemenskogo gosudarstva, politicheskie raspri v samoy NDRY, vylivshiesya v ...
DVD




Andrei Benkendorf, Igor Kornelyuk, Vladimir Vardunas, Viktor Gonchar, Vladimir Dostal, Vladimir Bortko, Armen Dzhigarhanyan

"Avtoritet ili legenda o Tampuke (2 DVD)"

Zabavnaya i veselaya istoriya naivnogo nezadachlivogo zhitelya Marokko po imeni Mananga, kotoryy voleyu sudby okazyvaetsya vovlechennym v puchinu kriminalnyh sobytiy nashey rossiyskoy deystvitelnosti i dazhe stanovitsya ugolovnym avtoritetom i millionerom. ...
Audio CD




A'Studio , Tatyana Bulanova, Anzhelika Varum, Vladimir Kuzmin, Zemlyane , Leonid Agutin, Mihail Boyarskiy

"Various Artists. Luchshaya diskoteka 80-h 90-h. CHast 4. Belyj tanets"



1. Spasibo, rodnaya - Mihail Boyarskij 2. Moya lyubov - Vladimir Kuzmin 3. Staryj otel - Bravo 4. Malenkij korablik - Zemlyane 5. Uleteli listya - Forum 6. Staroe kafe - Aleksandr Kalyanov 7. Ne plach - Tatyana ...
Audio CD




Natasha Koroleva, Yuriy Loza, Aleksandr Barykin, Oleg Gazmanov, Aleksey Glyzin, Vyacheslav Dobrynin, Edita Peha

"Various Artists. Pesnya goda. Pesnya 90"

Luchshie pesni 90kh godov

1. Zheltye tyulpany. Natasha Koroleva 2. Plot. Yuriy Loza 3. Dozhdi. Igor Kornelyuk 4. Poslushay. Igor Kornelyuk, Edita Pekha 5. Ya za tebya molyus. Layma Vaykule 6. Strannaya zhenshchina. Mikhail Muromov 7. Eskimos ...
DVD




Vladimir Bortko, Igor Kornelyuk, Igor Matyushin, Nikolay Gogol, Dmitriy Mass, Anton Zlatopolskiy, Ruben Dishdishyan

"Iron & Blood: The Legend of Taras Bulba (Taras Bulba)"

Seredina XVI veka. Velikoe Polskoe korolevstvo vstupilo v zolotuyu poru rastsveta svoego mogushchestva. Ognem i mechom polskaya shlyahta pokoryaet ukrainskuyu zemlyu, povsyudu nasazhdaya svoi poryadki. Zemli zahvatyvalis vmeste s lyudmi, ...
DVD




Vladimir Hotinenko, Vladimir Bortko, Alexei Aigui, Igor Kornelyuk, Ilya Demin, Valerij Todorovskij, Mihail Boyarskiy

"Dostoevskiy (8 seriy). Idiot (10 seriy) (2 DVD)"

Dostoevskiy Novaya i davno izvestnaya informatsiya o zhizni i tvorcheskom puti velikogo romanista s mirovoy populyarnostyu - F.M.Dostoevskogo. Tyazhelaya, polnaya ispytaniy i tragizma sudba izvestnogo cheloveka, kotoryy za svoyu prodolzhitelnuyu ...
DVD




Vladimir Bortko, Igor Kornelyuk, Mihail Bulgakov, Valeriy Myulgauch, Valerij Todorovskij, Ilya Olejnikov, Dmitriy Nagiev

"The Master and Margarita (Master i Margarita) (2 DVD)"

Vladimir Bortko ("Sobache serdtse", "Idiot") stal pervym rossiyskim rezhisserom, kotoryy vzyalsya za ekranizatsiyu znamenitogo romana Bulgakova i, pokhozhe, ne ostanovitsya na polputi. Ostalnym, kto bralsya za "Mastera i Margaritu", dovesti ...
DVD




Sergey Lomkin, Vladimir Bortko, Vladimir Dashkevich, Igor Kornelyuk, Vladimir Gurkin, Mihail Bulgakov, Valeriy Myulgauch

"Literaturnaya klassika na ekrane. Mikhail Bulgakov. Master i Margarita. Rokovye yaytsa. Sobache serdtse (4 DVD)"

Master i Margarita ( Disk 1-2) Rezhisser: V.Bortko 2005g., 1-10 serii, 484 min Vladimir Bortko ("Sobache serdtse", "Idiot") stal pervym rossiyskim rezhisserom, kotoryy vzyalsya za ekranizatsiyu znamenitogo romana ...